Tapping has started for 2023
It's been a very busy "off-season" preparing for 2023. This past year we undertook the construction of new pump houses, upgrades to our collection lines and repairs from the Derecho storm damage of May 2022. Tapping is now underway and we expect to be making syrup any day.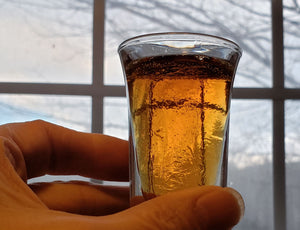 Traditionally Made
We produce small batches using sustainable practices that combine traditional methods with modern food-safe equipment to produce the highest quality syrup.
Our syrup is cooked using a high-efficiency wood burning evaporator.
Maple syrup is 100% pure and natural.  There are no chemicals, herbicides, additives or preservatives used.
Making Maple Syrup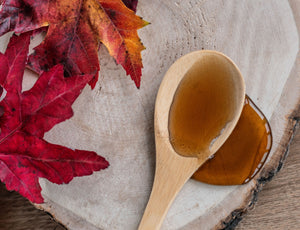 Healthy & Nutritious
Maple syrup is 100% pure, natural and is packed with nutritional value.
The carbohydrates in maple syrup are a natural endurance booster and maple syrup is also an excellent source of manganese and zinc which may help support healthy bones & muscles.
Maple syrup is an excellent substitute for sugar in cooking and baking.
Maple Recipes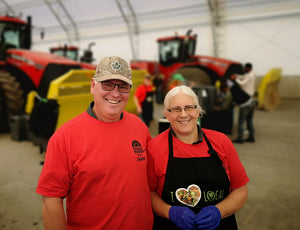 Locally Produced
Our family run maple sugar operation takes pride in producing high quality syrup from our 100 acre bush located near Elphin Ontario in Lanark County.
Our operation began in 2010 and has expanded every year.  We are currently building a new larger sugar house for 2021.
Our syrup is available for online purchasing, local pickup and local distributors.
Our Story
Our Sugar Bush
Our sugar bush is located in Lanark County at 1080 Concession Rd 3, Elphin, ON. It is an off-grid operation running on a combination of solar and generator power. We welcome visitors during the season. If you are interested in dropping by, please call ahead at (613) 489-0011.
We combine traditional processes with modern technologies such as digitally controlled values, reverse osmosis and a filter press to produce high quality syrup with a full rich maple taste.
We are active members in the Lanark & District Chapter of the Ontario Maple Syrup Producers Association.
Storing Maple Syrup
There are no additives or preservatives in pure Maple Syrup.
We recommend storing syrup in the freezer and keeping it refrigerated after opening.
Thaw frozen maple syrup and gently shake to mix before using.  Re-freezing and re-thawing are not harmful.
Local pick is available from our home at 6367 McCordick Road or from one of the following distributors:
Location
HOME ADDRESS
6367 McCordick Road
North Gower, Ontario
(613) 489-0011
Contact us to arrange pick-up.
Location
OUR SUGAR BUSH ADDRESS
1080 Sherbrooke Concession Rd 3
Elphin, Ontario
Open During Season